Keoni's Black & White Muffimajigs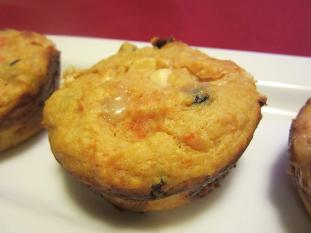 These little "muffinesque" morsels are super moist, sweet and dense with goodies. Leave them out of the refrigerator and the white chocolate stays runny, refrigerate them for a firmer, spongier treat.
1 cup Mashed yam, baked & cooled
1 cup White chocolate chips
1/2 cup Black currants, dried
1 Tbsp Granulated sugar
1/2 Tbsp Baking powder
6 Tbsp Salted butter, not soft
1 cup All-purpose flour
1 Tbsp Creme de Cassis (black currant liqueur)
1 tsp Vanilla extract
1 Cup Half & Half
1 Egg, beaten
Preheat oven to 400 degrees
In medium mixing bowl, add flour, baking powder and sugar. Mix well
Add cold butter to flour mixture and "cut in" or press with a fork until small crumbles form
Add currants, chocolate chips. Mix well.
In a medium bowl, add yam, liqueur, vanilla extract, half & half, and beaten egg. Mix well.
Add wet mixture to dry mixture. Mix well.
Add 1/2 cup dollops to non-stick (or sprayed) muffin pans
Bake at 400 degrees for 15 minutes.
Keoni's White Truffle Crumpet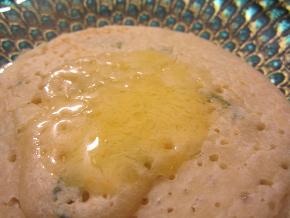 Soft, Doughy and pretty-pretty-pretty good! More like a pancake than an English muffin or toast. Flimsy and absorbing, so they fail as mini pizza crusts, but they are fantastic with butter or jelly!
1.5 cups water, lukewarm
1.5 cups milk, lukewarm
1 T salted butter, melted
1 T white truffle infused oil
3.5 cups all-purpose flour
2.5 tsp instant yeast
1 tsp baking powder
1.25 tsp table salt
1 tsp onion powder
.5 tsp garlic powder
1 T fresh basil leaves, minced (optional)
1 cookie cutter, round, 3" diameter
In a medium bowl, add water, butter, oil, yeast and milk. Whisk well.
In another medium bowl, add all other ingredients. Mix well.
Add the dry mix to the wet mix. Mix well.
Set on the counter, uncovered, for 2 hours.
Set a skillet (or frying pan), over medium heat and allow to get hot.
Set the cookie cutter in the hot pan.
Pour about 2 Tbsp batter into cookie cutter (flip when under side is cooked).
Remove form heat when fully cooked.