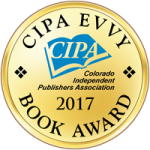 The CIPA EVVYs is one of the longest-running book award competitions on the Indie publishing scene, running for nearly 25 years. The annual contest is sponsored by the Colorado Independent Publishers Association (CIPA), along with the CIPA Education and Literacy Foundation (ELF).
The CIPA EVVYs receive entries from all over the world, including England, Belgium, South Africa, Russia and Dubai. Averaging over 200 entries each year in 39 book categories and 8 technical categories, the CIPA EVVYs continue to provide an excellent way for independent authors to gain recognition for their work.
The judging is tough—the way a book competition should be. Judges are selected through CIPA's judging qualification process and include teachers, business leaders, authors, critics, editors, readers and others. Our judges know books.
CIPA EVVY entries are judged and scored according to established minimum acceptable criteria. Only those entries that attain the minimum acceptable score become finalists, and entries must achieve certain levels in scoring in order to be eligible for 1st, 2nd, 3rd, and merit awards. The highest scores in each category are used by the judges to help determine each category's winners, if any.
THE KIRKUS STAR
The Kirkus Star is one of the most prestigious designations in the book industry. Look for the icon to discover books of exceptional merit.
DINE FINE FORGET FRUGAL A Wholesome Approach to Fine Food
Jonathan Ho Outskirts Press $41.95 hardcover, $35.95 paperback
ISBN: 978-1-4787-6516-5;
May 25, 2016 BOOK REVIEW
A fusion chef presents 30 high-end hors d'oeuvres. "I've committed my career to celebrating the US culinary melting pot," Ho (That's the Spirit, 2012) declares. He grew up in Hawaii, where he helped in his father's Honolulu restaurant, and at age 16 moved to Pennsylvania's Amish country. Both influences are evident in his recipes—"Hapa-Ham" Burgers and Rock Salt Plum Ribs; and an unusual take on Pennsylvania Dutch chicken and waffles—alongside a range of other American food cultures, including Tex-Mex, Southern, and various Asian cuisines. The book focuses exclusively on appetizers and soup shots. Even familiar foods like macaroni and cheese are reworked with piquant flavors to make them special-occasion dishes—in this case, using a blend of fine cheeses and adding crab meat, saffron, and caviar. Ho delights in blending the traditionally savory and sweet in playful combinations that will be "confusing to the palate," like filling a donut with chicken, beans, and cheese, or flavoring a potato-corn cupcake with vanilla and chamomile tea. One of the best examples of the fusion food approach is his "terichanga," a fried burrito stuffed with teriyaki-marinated rib eye beef and topped with mango-avocado salsa. Best not to look too closely at the nutritional information—the figures are slightly alarming, even for amuse-bouche serving sizes. Each recipe is accompanied by an appealing color photograph, background information, substitution advice, and details on how to source unusual ingredients. Some explanatory notes (for hoisin sauce, Berkshire pork, and the Amish) are repeated in multiple recipes; they could all be collected into a glossary at the end. Fractions would be more useful than decimals when measuring ingredients, and the ornate font becomes a challenge to read. But these small quibbles cannot detract from the quality of these truly indulgent dishes. In many cases, the ingredients are so expensive that these recipes are likely to be reserved for a blowout dinner party, perhaps around Christmastime—a perfect occasion for Turkish-style reindeer meatballs. A final section of musings gives strategies for creating harmonious dishes and pleasing picky eaters. A mouthwatering collection of decadent appetizers.